April 22, 2014
The New York Times had a fascinating article on the widely discussed 1%.  In it, they show through research dating back to the 1970s that any person in the United States has a 12% chance of spending at least one year in the top 1% of income distribution.
The article itself is interesting, but what really has caused some discussion are the responses, especially from two different economic camps.  Greg Mankiw, professor of Economics at Harvard, agrees completely.  Paul Krugman, professor of Economics at Princeton, disagrees completely.  Although many of us that know that Mankiw leans a little right and Krugman a little left, it is a great opportunity for students to read up on and research opposite sides of the political-economic spectrum to determine from evidence who is "right" in their opinion.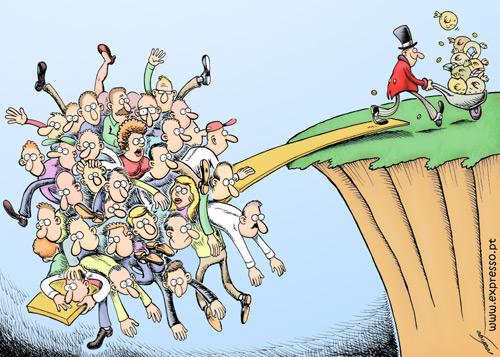 To boost data on either side, there is more news regarding income inequality in the last week.  For example, French economist Thomas Piketty has released a book stating that what is usually stated as fact (that income inequality is a known and accepted by-product of capitalism), is instead falsehood.  Looking at data from the last hundred years, Piketty claims that our US economy will fall under income inequality issues.  Worse, he says it will happen soon – that the statistics from current numbers reflect the same income inequality as seen in the United States just before the Great Depression.
And just today, the New York Times has released a report showing that the US middle class is no longer the richest middle class in the world.  Canada has taken that title, and the article has a great chart showing the gaps between the US middle class and other countries'.
A new Forbes article outlines how income inequality is being used for political gain, with very little effort to actually do anything about it.  At the same time, Bloomberg has an article showing that the gap between the richest and poorest Americans is smaller.
I bring all of these articles to light in order to allow students to read multiple points of view to determine what is right for them.  Political beliefs are very personal, and it can be very difficult to determine what is "truth" and what is political posturing.  Have students read through the articles and determine who has the strongest case.  Tie information to the UFR lesson on Rhetoric, and ask students to use information from their research to take a stand on whether the stories they see constitute truth or rhetoric.